I have a confession to make. Well several actually, but you guys probably don't care about the time I stole my flatmate's pizza and blamed it on my dog (Nah ragrets. #pizzaislyf). Or when I went skinny dipping in my neighbour's pool. Or that I don't actually hate Nickelback. And I think Nick Cage is a quality actor that doesn't deserve to just be known for being a meme.
Wow. Those Catholics are onto something, confessing really does feel good. Anyway, I digress. The truth is I've been pretty shit as an SEO Content Writer. Well, completely useless tbh, with updating my own content on my blog. And in 2018 your blog content still matters, so really I should send myself straight to Google jail. Without passing go. Without collecting two hundred dollars. And take up residence in the naughty corner of the internet, where I belong.
The truth is I've abandoned my website. I've abandoned my blog. And whilst I've been super busy telling you guys what you're supposed to be doing – like, I dunno, a little something like contributing to your own website and blogs consistently with high-quality, informative and engaging content. I haven't exactly been doing it myself. My bad.
I could probably make up a million excuses to give you. And trust me, excuses are my jam. Speaking of jam, ask my personal trainer how good I am at justifying why it was necessary to have three Krispy Crème donuts for breakfast, or why the Bachelor Paradise finale was more of a priority than working out, #taraandsammy4lyfe. But it just doesn't cut it, and I know it. Judge away, humans that are better at life than me (so most people, really!).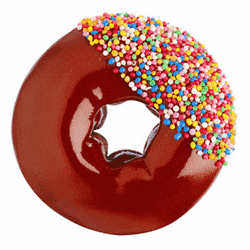 I just got slack. I was living the do as I say, not as I do life. And I found it hard to concentrate on doing the stuff for my own blog when I spend all day writing for others. It's a cop-out, yeah, for sure. But I guess in the same with if you were a builder and you were building all day, it would be hard to go home and build your own home. But people do it, and I should have been as well. Forgive me, you guys. I'm working on it.
The thing is in 2018 your blog content still matters. No matter what industry you are in and what marketplace you're playing in, your blog is your opportunity to share your industry knowledge and answer the questions you're customers are looking for. And your blog and SEO Strategy is a key ingredient in getting the new customers you need for your business to thrive.
So now I've confessed my sins and determined to change my evil ways (well except those that revolve me having to sacrifice any type of pizza or pizza-related item for the common good. Despite my brief encounter with religion as mentioned above, I ain't no Mother Teresa, come on!) and contribute to my blog going forward. And you should too.
These Are The Reasons In 2018 Your Blog Content Still Matters.
1 In 2018 Your Blog Still Matters Because of SEO
I'm gonna give it you straight, you guys. SEO is not all that complicated. People get lost in all the technical jargon, and all the crap you're "supposed" a to be doing. And forget the most crucial part of SEO – content. The Google bigwigs have been telling us for some time right now it's all about content, and high-quality engaging content at that. And we now know that content is one of the top 3 ranking factors, so its uber important and stuff!
If we strip an SEO strategy right back to the basics, it comes down to developing a keyword strategy around words that our potential consumers would type into Search Engines. When we create highly-engaging industry related content, Google sees us as an authority figure on that content and ranks us accordingly. Yes, the technical elements matter. You need a healthy site to be able to perform the best at the SEO business, of course.
And yes backlinks and citations are also important. But at the key of your SEO strategy is the content you write on your own site. You'll never be able to achieve the rankings and traffic you need if you don't prioritise content for your own site. Your blog is the perfect place to create as much content as possible around your keywords for you to rank highly on Search Engines.
2 Blogs Build Relationships
Blogs are like Tinder for your business. They give you the perfect forum to initially connect with your current customers and potential new customers, show off all your shiny good points and products and services, and open a direct communication channel with your audience. It can be the beginning of a beautiful relationship. Unlike my personal Tinder, which has left me to give up on mankind itself and accept my fate of single crazy dog lady. #foreveralone.
You can also share timely and relevant information with your audience through your blog, as well as receive feedback as well. Also, because you're answering the questions your audience needs through your article, your customers tend to trust the information given to them on your blogs.
It also gives your business a way to humanise your brand. You can touch on issues and concerns of interest to your prospects, while also sharing what you and your employees are passionate about. Your blog posts give you a unique opportunity to share your voice and personality, building up trust and increasing your brand's likeability.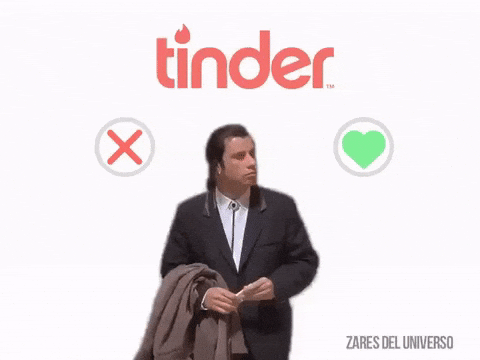 3 Your Blogs Helps Convince Your Visitors To Convert To Customers
Every business needs customers, obvs. But did you know that the wicked content you produce and share on your blog can help you convert the visitors to it into loyal customers? Yes, really. If your blog content is providing informative and high-quality content for your audience, you are building trust with your audience. When people trust you it's easy to nurture them towards a purchase. Unlike my recent ex who used trust to nurture me into a move on the other side of the country and some bad financial decisions, but that's another story.
By optimising your blog to ensure they include enticing call-to-action, offering discounts or offers specific to your blog readers, as well as answering the comments on your article, you can further help your blog generate conversions and turn your audience into loyal customers.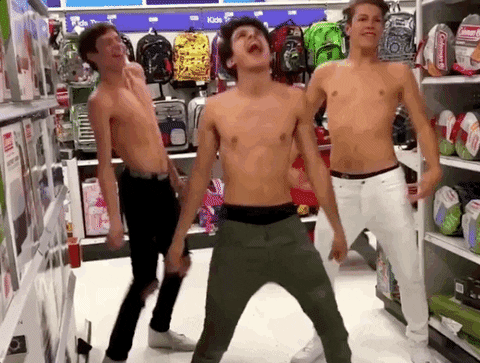 4 Content Helps Grow Your Online And Social Presence
Whether we like it or not social media has taken over the world and there are like 75 trillion active daily users on the channels. Ok, I'm exaggerating but whatever voodoo magic the creators have used worked incredibly and its fair to say most people are social media addicts. Speaking of addictions, it looks like my high-school nemeses is now addicted to healthy living instead of bullying, according to their latest Instagram story, and I'm totally here for it. Slay girl!
Anyway, the rise of social media use equals the rise of ways to market to people through social media. And businesses need to board that social media tram, or they're potentially losing a truck-load of potential customers to their business.
If you're creating high-quality content like articles, infographics, eBooks, webinar's and more, you've got a constant stream of content to share on your social media platforms. It shows you're putting in the effort to peak your customer's interest and provides a direct link to them to your website. Everybody wins! While you're here why not check out this super awesome graph the team at Click Consult have created for all the pros and cons of social media;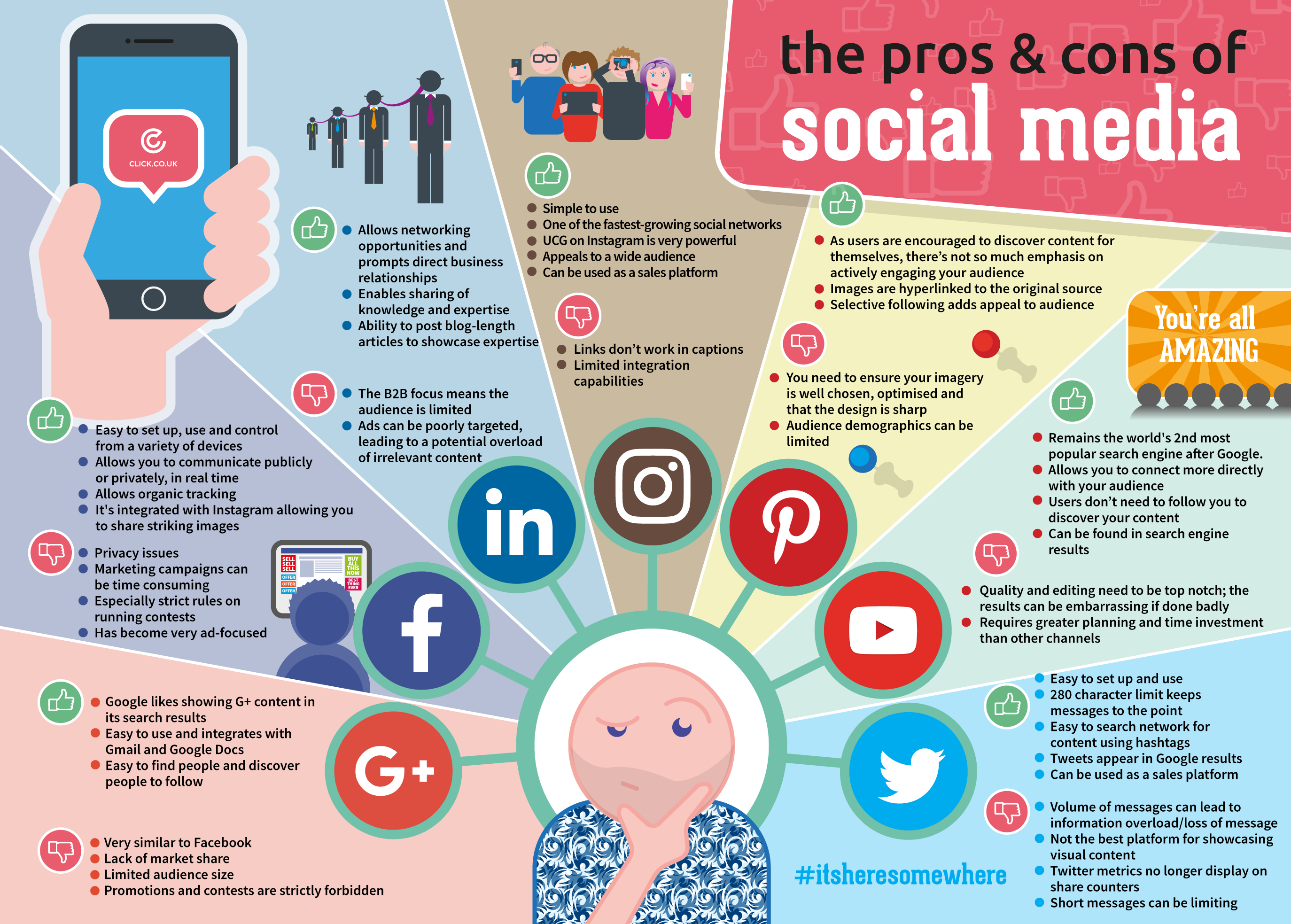 If your business needs a win with a high-quality blog article, get in touch with our content team today and see what we can do for you!